What's Wrong!
Setback, bank erosion and its vegetation removal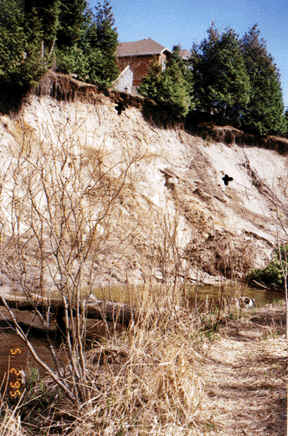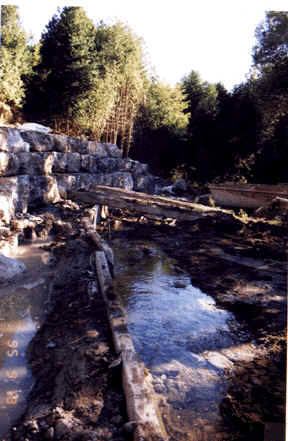 The first photo shows the severe erosion which has taken place just behind the "Whitecliffe" development in Courtice on Farewell Creek, and the second photo shows the 'repair' job done by the developer to try to keep the stream bank from eroding further. This included much vegetation removal along the banks of Farewell Creek to get the heavy machinery into the area to do repairs. Bank erosion is closely tied with keeping setback from the stream during development and keeping the vegetation (trees, shrubs) along banks to prevent erosion.

back to "what we can do" page
---
(also see above)
Setbacks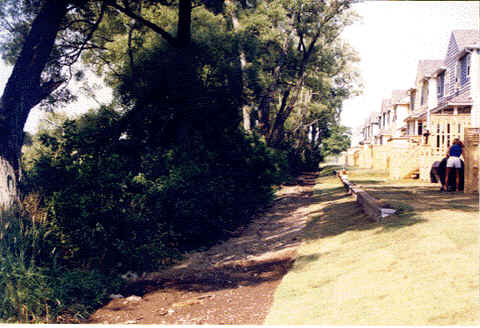 During development there should be a certain distance called "setback" kept from steams (top of bank). It serves two purposes: it protects people from possible flooding or damage to property by falling trees during extreme winds. In this development (same developer as above pictures), built in 1997 at Courtice Rd. & Hwy #2 in Courtice (in front of the new Community Centre), you can see the lack of setback to the creek bed. This doesn't even conform to Official Plan setbacks, and is also situated in a flood plain (see flooding for what this same area looks like in the spring or after a very heavy rain - how will these people fare during their first spring in 1998?). Developers frequently ask the municipality for a reduction in setbacks so they are able to add more housing units to their developments - and they frequently are obliged!
---
You can help by contacting your local council by letter or as a delegation before Council. See Contacting Council (Clarington) for information on how to be heard.

back to What Can We Do? text

back to PhotoGallery text

back to Flooding

Home